1-800-803-5439 toll-free
512-280-7800
512-280-7842 (fax)
Dry Van Freight Shipping & Trucking Service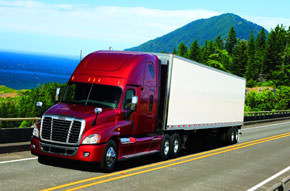 With our dry van shipping and trucking service, we offer transportation services using 53-foot air-ride dry vans. With our dry van trucking service, we can handle both full truck loads as well as LTL trucking shipments for clients whose shipments do not fill a complete trailer. Our dry van freight trucking services are available to the continental United States, Mexico, and Canada.
If you are interested in our dry van freight shipping services, our experienced office staff will recommend a precise type of truck and service that will meet your particular freight shipping needs.
To learn more about our dry van trucking service for your dry freight shipments, please contact us to request a dry van freight quote today.
Scheduling your Dry Van Trucking Service
Dry van shipping is the most common method for transporting freight across interstates. A dry van is a standard trailer that does not need to be temperature-controlled and is designed to carry freight that is loaded on pallets, packed in boxes, or otherwise secured within the trailer. Because of this versatility, dry van trailers are ideal for shipping nearly any type of good or equipment that fits within certain size and weight limitations.
When you choose Stein Transportation for your dry van freight shipping service, you will work with our experienced office staff in order to organize and plan your dry van freight shipment. Our office staff has experience planning for and scheduling dry van trucking service. They can evaluate your needs and help schedule your freight shipment in a timely manner. Our office staff can also help you to determine whether you will need full truck load or LTL service for your dry van freight shipping service.
Full Truck Load Dry Van Shipping
With our full truck load dry van trucking service, your shipment will be shipped in a dedicated 53-foot dry van truck. Many customers prefer to ship their dry van freight in full truck load shipments, because this will allow them to schedule on time pick-up and delivery that is the most specific to their particular schedule and needs.
LTL Dry Van Freight Shipping
If your shipment will require only partial floor space, you may want to consider our LTL trucking option. Less than truck load shipments are available at prices that are well below the full truckload rates. Therefore, shipping partial shipments via LTL dry van trucking can offer significant cost savings. Additionally, LTL shipping will transport shipments more efficiently, using less fuel, which is an energy efficient shipping option. Learn more about why many companies choose our LTL trucking service for their dry van freight shipments.
Request a Dry Van Freight Shipping Quote
With our experience planning and transporting dry van freight shipments, we can help you to determine the most efficient manner for shipping or transporting your freight. This will include deciding the best type of dry freight trailer to use as well as determining whether your shipment requires LTL or full truck load service.
To learn more information about our dry van freight shipping and trucking service, and for additional information about our services and shipping rates, please feel free to contact us today. You can also request a free freight quote online for your dry van trucking needs.
Mission Statement
At Stein Transportation, we are quality driven to provide the best trucking services possible to our valued customers. It is our number one goal to build lasting relationships with each of our customers and our employees.
By following through with our commitments for every trucking service, we aim to become the trucking company of choice for our valued customers. We provide each employee with financial security and career opportunities in order to reinforce our relationship of trust and our commitment to quality.