1-800-803-5439 toll-free
512-280-7800
512-280-7842 (fax)
Heavy Haul Trucking Service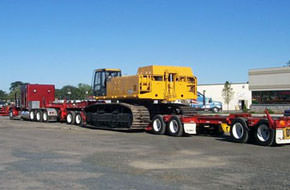 Heavy hauls and oversized loads can pose special challenges for shippers as each heavy haul trucking project comes with a variety of special requirements and complications. The challenges associated with shipping and transporting oversized loads include both finding the right equipment for moving heavy equipment, as well as obtaining the necessary permits required for completing a shipment. Additionally, many heavy haul trucking projects will require special route planning because of the added weight or size that can be associated with an oversized load.
Stein Transportation offers heavy haul trucking service for transporting shipments of heavy or oversized equipment within the continental United States, Canada, and Mexico. We have the equipment, staff, and professional drivers needed to handle any heavy haul trucking project. Our heavy haul trucking service is available for all types of customers including both individual buyers and major industrial shippers. Whether you are in need of heavy haul trucking service for a one-time project across the United States or you need a heavy haul trucking company that you can trust with your regular heavy haul shipments, our experienced staff and professional drivers are ready to help.
Heavy Haul Trucking Service for Any Heavy Shipment
With our heavy haul trucking service, we can handle heavy equipment moving, machinery shipping, and transportation service for virtually any type of oversize loads or overweight shipments. This includes moving, shipping, and hauling equipment such as:
Air Exchangers
Backhoes
Boats
Boilers
Bridge Beams
Concrete Precasts
Condensers
Construction Equipment
Conveyors
Cranes
Crushers
Dump Trucks
Earth Movers
Excavators
Forklifts
Generators
Grinders
Heavy Machinery
Mills
Motors
Order Pickers
Oversize Loads
Presses
Planes
Skid Steers
Steel Drums
Tanks
Tractors
Transformers
Turbines
Wheeled and Tracked Machinery
The Right Equipment & Expertise for Any Heavy Haul Trucking Project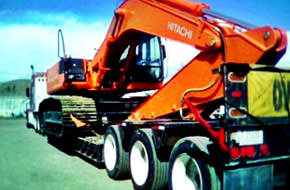 As an experienced heavy haul trucking company, Stein Transportation has just the right equipment and expertise required for handling any heavy haul trucking project. We have a variety of types of trucks and other equipment available for heavy haul trucking projects including:
Step Decks
Double Drops
Lowboys
Power Only Equipment
Additionally, our employees are heavy haul trucking experts. From planning a route to delivering your shipment, we can handle every step involved in the heavy haul trucking process. Our office staff will obtain the necessary permits required for overweight shipments at the beginning stages of any shipping project. We can also plan and organize special routes as needed to accommodate any heavy haul trucking shipments. Finally, our drivers are experienced in completing a variety of heavy haul trucking shipments so when working with our heavy haul trucking company, you can be sure that your equipment, machinery, or other heavy haul shipment will be treated with the care you expect.
Trust Us with Your Heavy Haul Trucking Needs
If you are looking for a heavy haul trucking company to organize one particular overweight or oversized shipment or you need an experienced company for ongoing and regular shipments, let Stein Transportation put our years of heavy haul experience to work for you.
To learn more about our heavy haul trucking service or to begin planning your next heavy haul project, please contact Stein Transportation for your customized freight quote. You can also contact our heavy haul trucking company to receive additional information about our shipping rates and services.
Mission Statement
At Stein Transportation, we are quality driven to provide the best trucking services possible to our valued customers. It is our number one goal to build lasting relationships with each of our customers and our employees.
By following through with our commitments for every trucking service, we aim to become the trucking company of choice for our valued customers. We provide each employee with financial security and career opportunities in order to reinforce our relationship of trust and our commitment to quality.