1-800-803-5439 toll-free
512-280-7800
512-280-7842 (fax)
Oversize Load Trucking Service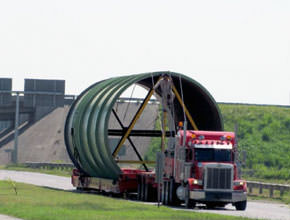 Oversize load shipments are shipments containing freight or other large items, which exceed the maximum size limits that are legally set for specific trailers. In order to transport oversize load shipments you will typically have to obtain special permits prior to transport. Additionally, your shipment may also require special path our route planning in order to avoid low bridges, narrow passes, or other obstacles.
Because of these special requirements, oversize load shipping can be complex and difficult for many shipping customers to handle. However, at Stein Transportation, we have experience planning and delivering oversize load shipments to the continental United States, Canada, and Mexico.
We can expertly plan and coordinate your oversize load shipment. Our professional drivers will then safely complete your delivery in a timely and cost effective manner.
Please contact our freight transportation company if you would like to learn more about any of our trucking services including our oversize load transportation service. Our experienced office staff can provide you with a freight quote for your oversize load shipment and will work with you to plan and complete your trucking service.
Oversize Load Transportation Without the Hassles
When you choose Stein Transportation for your oversize load trucking service, you can be sure that your freight will be handled with care and that your trucking service will be completed in a professional and timely manner. Because we have years of experience transporting oversize loads, we can handle the complete process and eliminate any hassle for you.
We will obtain the necessary permits, acquire the required equipment or trailer for safe transport, plan an appropriate route for your oversize load shipment, coordinate and schedule pick up and drop off services, and secure oversize loads for safe transport. Because our professional drivers have experience completing transport services for a variety of types of equipment or freight, we understand all of the necessary regulations and special precautions involved with handling oversize load shipments. Therefore, we will legally and safely help you to transport any oversize load in order to ensure that your shipment reaches its destination quickly, carefully, and cost-efficiently.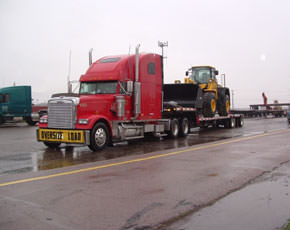 With our oversize load transportation services, we can transport:
Oversize freight that is extra wide, long, or tall
Overweight or Heavy Haul Shipments
Oilfield Equipment & Machinery
Mining Equipment & Machinery
Construction Equipment & Machinery
Manufacturing Equipment & Machinery
Farm Equipment & Machinery
Pre-Assembled Homes
Boats
Large Trailer Mounted Equipment Requiring Tow Away Power Only Services
Other large Equipment or Machinery such as Bulldozers, Cranes, Beams, or Steel Structures
Learn More About our Oversize Load Trucking Services
If you are interested in learning more about our oversize load trucking service, please contact our trucking company today. As an experienced oversize load trucking company, we can handle your oversize shipping project safely and efficiently while eliminating any hassle for you. Our experienced office staff will work with you when planning your oversize load shipment in order to ensure that it is completed in a cost-effective and timely manner. After planning, our professional drivers can then complete your shipment carefully and safely.
To learn more about our oversize load trucking service, please request a freight quote for your oversize shipment or call us today to begin planning your oversize shipping project.
Mission Statement
At Stein Transportation, we are quality driven to provide the best trucking services possible to our valued customers. It is our number one goal to build lasting relationships with each of our customers and our employees.
By following through with our commitments for every trucking service, we aim to become the trucking company of choice for our valued customers. We provide each employee with financial security and career opportunities in order to reinforce our relationship of trust and our commitment to quality.