1-800-803-5439 toll-free
512-280-7800
512-280-7842 (fax)
Contact Stein Transportation for Shipping Rates & More Information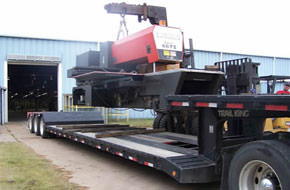 Stein Transportation is an experienced trucking company offering professional trucking service throughout the United States, Canada, and Mexico. We have teams of experienced staff and drivers who can handle nearly any type of trucking service including flatbed trucking service, dry van service, multi axle heavy hauls, LTL service, oversize loads, power only equipment, and freight brokerage services.
To learn more about any of our trucking services or to request information about the shipping rates for these services, please contact us using the form or contact information below.
Stein Transportation Systems, Inc.
1715 FM 1626 W
P.O. Box 1270
Manchaca, TX 78651
[email protected]
Toll Free Phone: 1-800-803-5439
Local Phone: 512-280-7800
Fax: 512-280-7842
Request Shipping Rates & Learn More About Our Trucking Service
To request shipping rates for our trucking services, you can contact us using the information above. You can also submit our online freight request form at the right of this page in order to contact one of our experienced staff members and receive an accurate shipping rate. If you require immediate service, please call us directly at (800) 803-5439 or locally at (512) 280-7800.
We offer a variety of professional trucking and shipping service within the continental United States, Canada, and Mexico. With our complete services, we can meet the shipping or transport needs of everyone from the individual buyer to major industrial shippers. We have the necessary trucks, trailers, and equipment in order to transport any load safely and efficiently. Each shipping and transport service is handled by professional truckers with extensive experience and knowledge. For any service which we do not own the required equipment, we will act as a freight broker and connect you with one of our trusted carriers. To learn more about our company or our trucking service, please contact the professionals at Stein Transportation today.
Dependable Trucking Service at Affordable Rates
As a leading trucking company, Stein Transportation offers a broad variety of trucking and shipping services to our customers. These services include flatbed trucking, dry van trucking, heavy haul or oversize load trucking, and power only trucking. We strive to provide each of these services to our clients with affordable shipping rates and timely service. With the combined experience and expertise of our staff and drivers, you can trust that your shipments will be in good hands with Stein Transportation.
Our available trucking services include:
To learn more about any of these services or to receive shipping rates for any of our trucking or freight shipping services, please contact us using the information above. We look forward to working with you to meet all of your shipping and trucking needs.
Mission Statement
At Stein Transportation, we are quality driven to provide the best trucking services possible to our valued customers. It is our number one goal to build lasting relationships with each of our customers and our employees.
By following through with our commitments for every trucking service, we aim to become the trucking company of choice for our valued customers. We provide each employee with financial security and career opportunities in order to reinforce our relationship of trust and our commitment to quality.