1-800-803-5439 toll-free
512-280-7800
512-280-7842 (fax)
LTL Freight: When is LTL Trucking Right for You?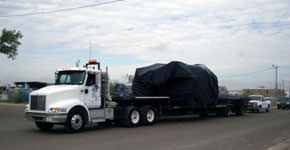 LTL is an acronym that is commonly used in the trucking industry in place of the term "Less Than Truckload". LTL freight typically includes any shipment that does not require the use of a full 48-foot or 53-foot trailer, but that instead is combined and shipped along with other partial shipments. The main benefit of choosing to combine shipments for LTL trucking is the cost savings that this can offer to clients.
When shipping LTL freight, it can become complex to manage and track multiple small shipments. Therefore, it is important to work with an experienced LTL trucking company, like Stein Transportation, that can handle and organize LTL freight shipments while satisfying all of your shipping and freight transportation needs. When handling each LTL freight shipment, it is our goal to offer timely and efficient service at cost-effective prices. To learn more about our LTL trucking service, please contact us at Stein Transportation today.
What is LTL Freight?
LTL freight can be any shipment that will not take up an entire 48- or 53- foot trailer. LTL freight shipments typically range in weight from 150 pounds to 20,000 pounds. They can include a single pallet of merchandise, equipment that takes up only a small amount of trailer space, or several pallets that fill half of a trailer. All LTL freight shipments must be packaged and labeled according to DOT standards in order to ensure safe transport.
At Stein Transportation, we can provide LTL freight shipping for shipments that require flatbed trucking service as well as those that require dry van trucking. We can transport LTL freight to any location across the continental United States, Canada, or Mexico. Whether you have a single package to transport across the country or several pallets of LTL freight that need to be transported across the state, we can work with you to organize and coordinate your LTL freight shipping.
Benefits of LTL Freight Shipping
The primary benefit associated with LTL freight shipping is the reduced rates and cost savings in comparison to full truck load shipping. Because several LTL freight shipments can be combined to create one full truckload, each party will be responsible for only a part of the shipping costs. This makes choosing LTL freight shipping a cost-effective solution for a variety of situations, and a far more effective option than transporting multiple trucks filled with only small amounts of freight.
In addition to being a lower cost option for shipping and transporting freight, LTL freight shipments are also a more fuel-efficient and environmentally-friendly option. Many businesses are beginning to realize the impact that performing everyday business has on the environment, and they are taking steps to reduce this negative impact. From taking steps to use less paper and recycling to choosing to utilize environmentally friendly products, LTL freight shipping is simply another step your company can take for the environment.
Request an LTL Freight Quote
Contact us at Stein Transportation today to learn more about our LTL freight shipping service or to find out if LTL trucking service can help meet your business' shipping and transportation needs. You can also call us or complete our online freight request form to receive a customized LTL freight quote for your LTL freight shipment.
Mission Statement
At Stein Transportation, we are quality driven to provide the best trucking services possible to our valued customers. It is our number one goal to build lasting relationships with each of our customers and our employees.
By following through with our commitments for every trucking service, we aim to become the trucking company of choice for our valued customers. We provide each employee with financial security and career opportunities in order to reinforce our relationship of trust and our commitment to quality.